Hollywood celebrities are fashion trendsetters that signal our cues for the season. As we look to today's hottest stars, we see a less-is-more approach to custom jewelry. Big name celebs are forgoing bling for classic pieces that add a sense of pop to their attire.
Since awards season has long since passed, the 2012 MTV Video Music Awards take center stage as a landmark event for fashion jewelry lovers. Music and films' hottest names hit the red carpet last Thursday at the Staples Center in Los Angeles and turned heads with their trendy choices.
Multi-colored nails have been all the rage for the last three seasons. A-list celebs are accentuating their graffiti-inspired nails with colored fashion rings.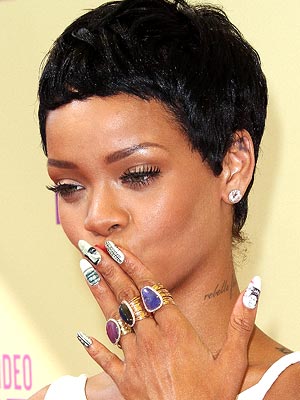 Rihanna made headlines when she kissed former beau Chris Brown at the 2012 MTV Video Music Awards. But, the fashion world was smitten by the "Birthday Cake" singer's pixie cut and gorgeous gown, which added a refined touch to her edgy look. The 24-year-old Barbados beauty accentuated her dress by wearing three gorgeous fashion rings on one hand. The rings were reminiscent of old-world royal jewelry as they featured oversized colored gemstones encircled by gold rope-twist halos and mounted atop yellow gold stacked bands. The fashion rings were the perfect complement for Rihanna's black and white nails. They also added a splash of color to her jet black hair and striking cream-colored gown.
Katy Perry radiated in a black gown that featured red and sky blue patterns and a leather stash. Russell Brand's ex also sported curly, jet-black hair, which was a welcome change from her baby blue locks. The "I Kissed a Girl" singer used rocker-chic fashion rings to offset her colorful nails. Perry's rings included an oversized ruby mounted atop a sunburst inspired, antique-style gold band, and a wide ring that bore a gold crest.
Chandelier earrings have been a hot item for the last four seasons. The earrings are the perfect complement for short cuts and the upswept hairdos that are gaining popularity.
Miley Cyrus shocked the world with her grunge-inspired short-blonde haircut. The former Hannah Montana is all grown up and embracing an edgier, more mature look. The "Party in the U.S.A" songstress turned heads at the 2012 MTV Video Music awards with a pair of gorgeous, triangle-shaped chandelier earrings that were encrusted in shimmering diamonds. The earrings affixed to the earlobe with a stunning diamond halo which radiated against Cyrus' milky skin and short hairstyle.
Alicia Keys 1980s-inspired, asymmetrical haircut gave her a retro, yet, futuristic downtown-look when she strolled the red carpet. The "Teenage Love Affair" singer accented her hairstyle's clean lines with a pair of dazzling chandelier earrings that were straight out of the 1980s landmark film, "Blade Runner." The metallic chandelier earrings featured multiple jagged triangles which dangled beautifully from her ears. The earrings accentuated Keys' chic 1980s look by adding more symmetry to the mix.