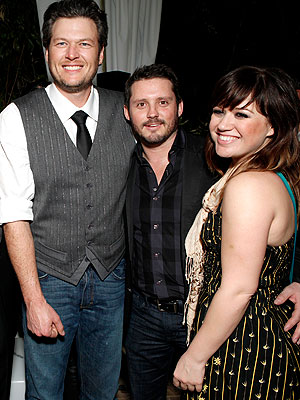 The American Idol family has a little bit more to smile about this holiday season. One of their own is now spoken for. Former American Idol Kelly Clarkson is now engaged to her boyfriend Brandon Blackstock. However, she may have a surprising person to thank for the proposal. Blackstock manages country superstar Blake Shelton, and Black admits that he really gave Brandon a hard time about having not proposed to Kelly who according to Blake is,  "the best thing that ever happened to him." That one line may have just earned Shelton a front row seat at the wedding of country royalty.
The couple may have been dating for only nine months, but Kelly has been very vocal about the fact that she intended to marry Blackstock. Blackstock is the stepson of country superstar Reba McEntire and Reba has said publicly that she could not be happier for the pair. However, she also tells fans to not be surprised if the public wedding that they are waiting for does not materialize. Kelly has also talked about the fact that she is more interested in the title of Mrs. Blackstock than of a large wedding. The two have even joked about eloping.
Blackstock worked tirelessly to create a stone that Kelly would instantly fall in love with. He focused on working with the jewel to create a ring that would showcase her love of the yellow diamond. Blackstock designed a 6 carat radiant cut canary diamond that is surrounded on all sides with a smaller row of diamonds. The canary yellow diamond sits on a band of white diamonds. Kelly has gone on record as having said that she was overwhelmed with emotion and actually cried at the proposal.
Kelly who had once thought that she may remain single forever now has a 6 carat reason to be thankful this New Year. As she and Blackstock begin to plan their life together and their wedding together, all we can do is wait and see what the matching piece to this canary yellow treasure will be.