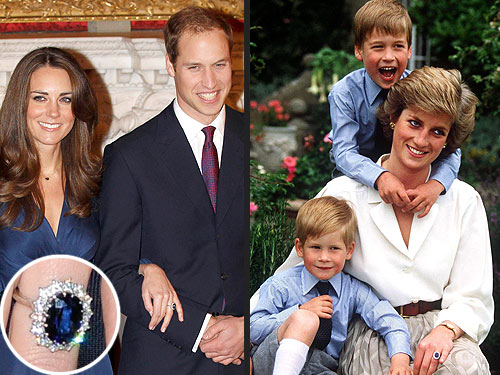 The world waited up to watch the fairytale play out as Kate Middleton married the love of her life who just so happened to be a member of the royal family. The ring that she was given as she agreed to commit her life to his was steeped in history and tradition as is often the case when it comes to the royal family. The ring is a 12 carat oval blue sapphire ring that is surrounded by a cluster of 14 diamonds and is set in 18 carat white gold and once belonged to the beloved Princess Diana. Diana who loved sapphires chose it from a selection that was presented to her in 1981 by the then Crown Jeweler in preparation to her engagement to Prince Charles.  How though does the ring stack up to those of royals past?
Princess Grace of Monaco
When you are engaged to a royal, for most the ring must live up to the bigger is better philosophy. Princess Grace of Monaco actually had two rings during her engagement to Prince Rainier of Monaco. He originally proposed with an eternity band that was made of rubies and diamonds, but when others in Hollywood had larger rings, he opted to make another selection. His final selection was a 10.5 carat emerald cut diamond ring that was flanked by two baguettes.
Queen Elizabeth II
Tradition takes many forms in the royal family. As a means to pay tribute to the loved ones of the past, some royals choose to craft a ring that has some historical significance. The ring that Queen Elizabeth II received from Prince Philip was a square cut diamond engagement ring that was created from diamonds that came from a tiara that once belonged to Philip's Mother.
Princess Margaret
Princess Margaret's ring was designed with a special significance with a nod to her middle name. The ring was designed as a ruby engagement ring surrounded by diamonds and was meant to resemble a rosebud in honor of her middle name: Rose.
When you are a member of the royal family, the sky is the limit in terms of jewelry options. The choice is yours when it comes whether to honor those of the past or your goals from the future. When life is a fairytale, you alone design your ending.